Kakuyasu Smartphone is a new type of low-cost phone service. Generally, service costs less than ¥5,000 per month, with some costing as little as ¥1,200 (not including the monthly payment for your phone).
What is it?
Kakuyasu Smartphone is not a company, but a concept. It revolves around the use of unlocked Android phones that can accept any type of SIM card, and the use of a Free Sim card that can utilize the cell towers of any mobile service provider. If you already have an unlocked phone, you can just purchase the SIM. If you don't, you can purchase an unlocked phone and Free Sim as a set. If you currently have a phone from au, Docomo, or Softbank, you will not be able to switch to Kakuyasu with the phone you're currently using.

You can choose your monthly data cap, with available amounts as little as 500MB and often up to 10GB or more.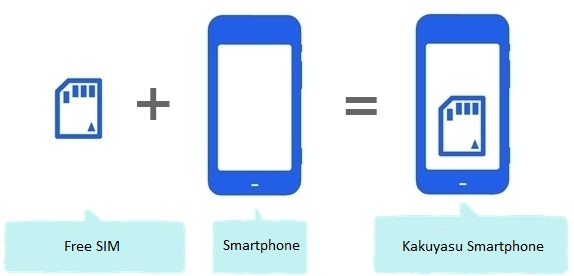 ---
Why is it so cheap?
When you use a Kakuyasu Smartphone, you are not using proprietary mobile signals. You essentially borrow the signal of whatever tower is nearest you, so your monthly fee is closer to a type of rent. Because you are essentially 'renting' your reception, you don't have to pay a lot of the fees that proprietary users pay.
Pros and Cons
Pros
Cons

・Very affordable

・Plans that can be tailored to a minimum of 500MB of data per month for low-data users

・No cancellation fees

・More affordable phones than standard carriers

・SIM cards can be exchanged overseas for prepaid SIMs when you travel



・High-data users may exceed plan limits and be charged a lot

・No service centers for help or troubleshooting

・No LTE service – highest possible service is 4G

・May experience poor reception and slow internet

・No proprietary email address on your phone

・No high-end phones or iPhones: Low to Mid-range Android only


---
Who is Kakuyasu Smartphone ideal for?
This kind of mobile service is ideal for individuals who have low data needs and don't make a lot of phone calls, or someone who cannot commit to a standard 2-year contract at a regular provider. It is also a good solution for those who cannot afford or do not care to pay for standard phone service, children and teens who do not need full functionality, or seniors who just need basic service.
---
Where can I get it?
Electronics stores, large department stores, and online.
If you cannot find the section for Kakuyasu Smartphone, look for 格安スマホ (kakuyasu sumaho) or ask an employee.